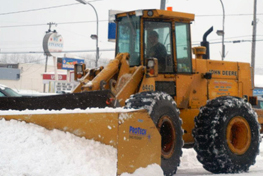 Snow removal is where we got our start and over the years our services have expanded so that we can meet all of our clients' winter needs. Our services include:
Snow Plowing
Whether a single driveway at your home or multiple parking lots for your business, we make sure your area is clear and accessible. Our Doppler radar provides updates every five minutes, allowing us to plan and be ready for action on your behalf.
Cleaning sidewalks
The area around your home or business is important and we will ensure it is cleared off in a timely manner.
Commercial salting and de-Icing
Don't risk costly slip and fall accidents on your property. We adopt a zero tolerance policy for sidewalks, have many plans to meet all business needs, and apply salt after every shoveling to keep walkways clear and ice free. We use a mix of sodium and magnesium chloride, which is safer for the lawn and shrubs. Rock salt is used in parking areas.
Snow Removal
We have the equipment to completely remove snow from your premises if needed.
Aisle clean up
When the snow is falling, the parking lots must be plowed, no matter how many cars are there. Our drivers will come back during off hours and clean up the areas we weren't able to do during business hours.
Spring clean up
If our plows damage sod or throw stones in the yard, we'll come back and fix it in the spring. Your 100% satisfaction is our goal and we want your property to look good in every season.